The Photographer's Guide to The Yorkshire Dales
Discover the top photography locations in The Yorkshire Dales with this detailed guide book.
The Yorkshire Dales has some of the most photogenic waterfalls in the UK, and it's well worth visiting just for these, but it also has plenty of other amazing photography locations to explore, such as fascinating limestone pavements and picturesque valleys with intricate field patterns and lonely barns. Whether you're totally unfamiliar with the area or you've spent quite a bit of time in the Dales already, this guide will help you to choose where to photograph, and when to go to get that shot worthy of hanging on your wall.
The book is split into seven sections, six covering the National Park (Ingleton, Dentdale & Sedbergh, Ribblesdale, Malhamdale & Airedale, Wensleydale, Swaledale and Wharfdale), as well as one covering the Nidderdale Area of Outstanding Natural Beauty (AONB).
Rated 4.5 stars (out of 5) by ePhotozine – read the review here.
ISBN: 9780992683412
£12.95
Over 50 brilliant photo locations, such as waterfalls, viaducts, barns and limestone pavements.

Detailed directions to each location, including maps, where to park and satnav information. (Postcodes for satnav are given in the book. GPS co-ordinates are available here.)
Advice on the best time of day and the best time of year to visit the locations.
Table of sunrise and sunset times for the area.
Suitable for all levels of photographer –  from beginner to professional.
Handy A5 size fits perfectly in your ​camera bag.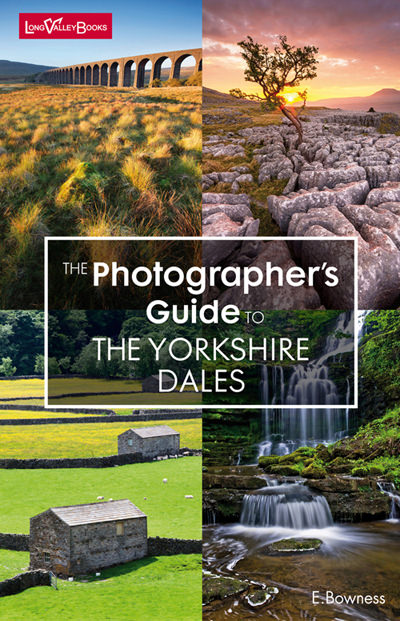 Click or tap the pages to view the pages full-size.
All our guidebooks are available on Amazon in the UK, Germany, Italy, France and Spain.  We sell as a merchant on the site because their platform is the most cost effective way for us to make our books available to a wide audience (it's not Amazon selling the books, it's us).  Alternatively, you can buy them from www.rigu.co.uk, which is a great camera accessories website based in the heart of the Lake District just down the road from Long Valley Books, and is run by Ellen's cousin.  Rigu will also ship to pretty much any country in the world!